Your Care Circle is made up of anyone you help look after - add people to your Circle to book appointments, request prescriptions, and heaps more
Add family, friends and Whanau to your Care Circle. Care Circle members with verified identity can access their health records, book appointments, request repeat scripts - everything you need in order to best look after those you care most about. We will go through how to add people to your Circle, and how to get their identity verified. It only takes a minute or two. Let's get started!
1. Sign in to your Vensa app. Click on the options button at the top left of your homepage. You will then see the following options. Click on "Care Circle" at the top to see a list of your dependants (this will be empty if this is your first time using Care Circle). We need to add people to your Circle - press "Add to my Circle" to get going.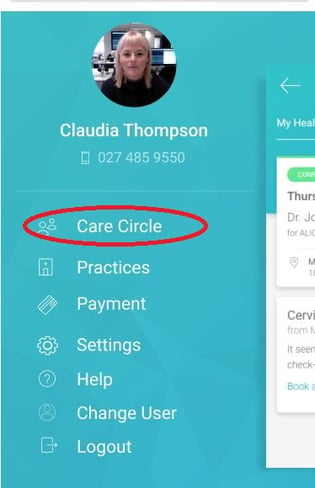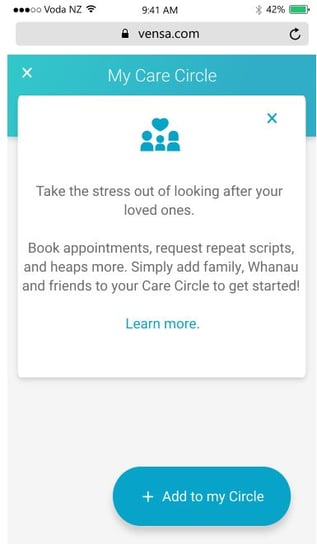 2. You will need to enter the details of each person you wish to add to your Circle. Make sure you enter the details as they are shown on their official ID (passport, driver's license etc). To get the most out of Care Circle we need your practice to verify the identity for your dependant. For fully verified dependants the main account holder will have access to medical records, previous prescribed medicines, and more. Click "Add to Circle" when you have filled in their details. You will then see a list of all people in your Circle. Their identity status will be displayed here also.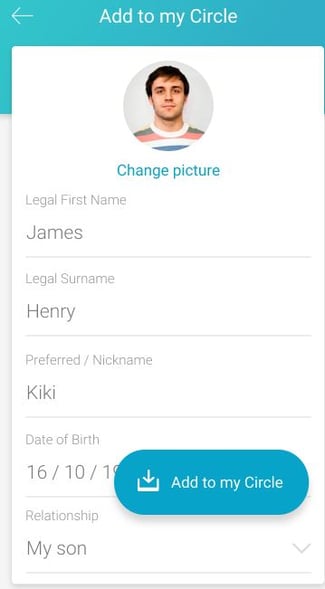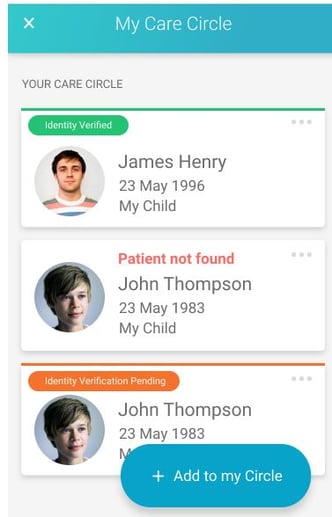 The top person in my Circle has had their identity fully verified by the GP practice. I can now access their medical records, previous prescriptions, and request medical services for this person.
The second dependant in my list says "Patient not found/matched". This tells me that I have successfully added this person to my Circle, but the details I have entered do not match any patients they have on record at the GP centre. I can book appointments and request prescriptions for this person, but I cannot view their medical records, previous prescriptions etc.
The last person in my Circle shows "Identity Verification Pending". I have requested that my practice verifies their identity. As soon as this happens I will have full access to this person's medical data, notes, medicines etc. Users will get the most out of the Vensa app if everyone's identity is fully verified.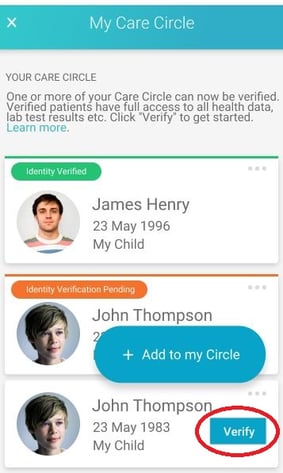 In order to verify someone you should click the "Verify" button (highlighted in the red circle). This will send a message to the GP practice to verify this person. When they are verified you have full access to their health records. They will then show a "pending" status until the practice completes the identity verification, as shown below.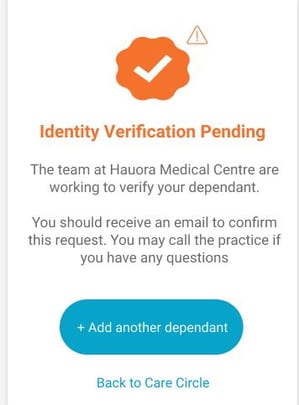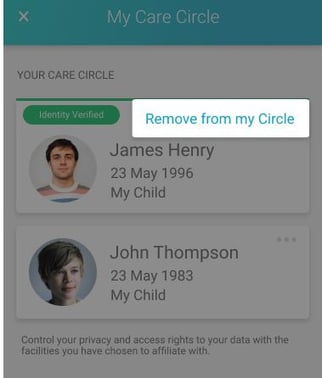 You can remove people from your Care Circle - click the action buttons at the top right of the person you wish to remove, then click "Remove from my Circle". When they are removed from your Circle you will no longer have access to their health data. You may add them again in the future if you wish - but they will need their identity verifying again with their GP practice.