how to set up prescription preferences, and how to process script requests

Click on the "Prescriptions" section on the left. Here you will be able to view and process all pending script requests, and choose your system settings.
Next click "Settings", and then "General"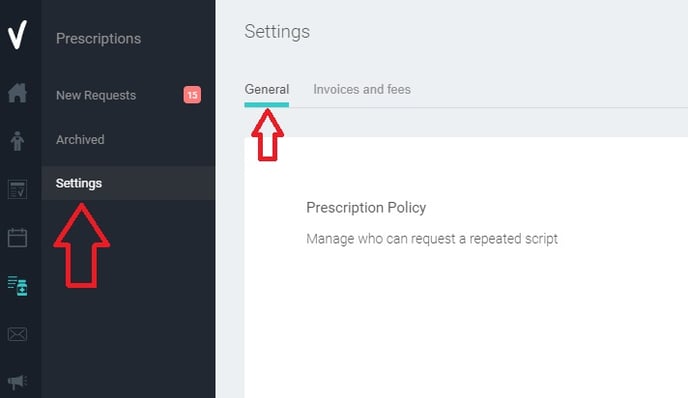 In this section you can:
1 - Select which patient groups may request a prescription
2 - Select which providers may receive and process prescription requests
3 - Enter your message templates for prescriptions - when a script is approved or declined a preselected message can be sent automatically to the patient
4 - The Vensa.com system can automatically send reminders to providers about outstanding script requests. Decide who should receive these reminders, and how often they will receive them.
How do I approve or decline script requests?
Click on "new requests" to see a list of all pending script requests. You will see a list of requests, displayed oldest -> newest by default.
Depending on your practice policy the first person to view these requests may be admin staff, a nurse, or a duty doctor. First step - click "pending review" to display a list of all requests that require action. "Reviewed" scripts have already been seen and provisionally approved by a team member (usually a nurse in charge of screening prescription requests) and are awaiting final approval by the doctor. Click "view request" in the pending review section. You will see a summary of the patient's details, script request, pharmacy for pick up, and payment details. You will also see a note from the patient (if they wrote one). This note is useful for adding medications to the script that they did not get last time (e.g. the patient may ask for a simple addition such as paracetamol, moisturisers etc)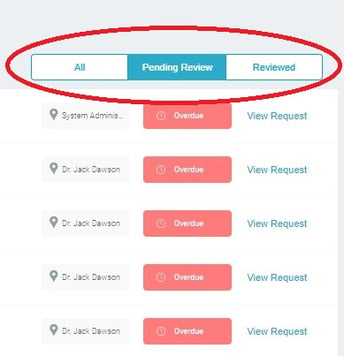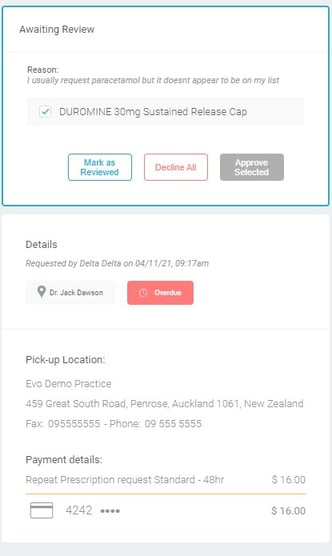 If the requested medicines are deemed suitable, this request can be "marked as reviewed" by clicking the blue button at the top. The request will be moved to the "reviewed" section, awaiting final sign off by the duty doctor. The buttons will change - the "approve selected" button is now blue, and is clickable. Each medicine item has a tickbox to the left - you may want to approve only a certain few medicines at a time.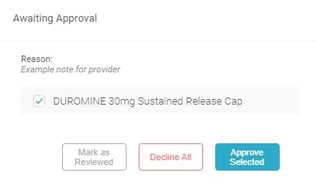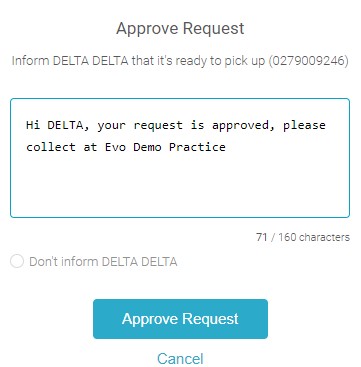 You will then see a pop up - this is the message sent to the patient. Your message template will be shown here. You can alter the message here should you wish. Click "approve request" to approve the request, send it to the pharmacy, and notify the patient. You will see a summary of all these details after clicking approve
You can also decline scripts using this process. If the script should not be issued (i.e. if the patient needs to be clinically reviewed, the patient has a new allergy etc) any provider can click the "decline all" button. You will be met with this pop up that displays your automatic template: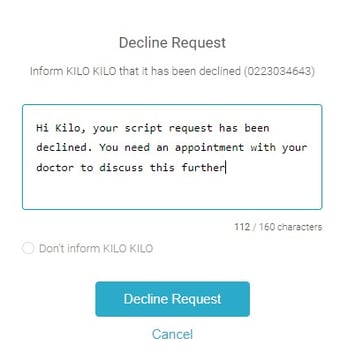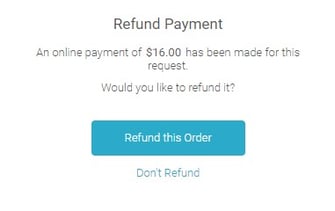 For those patients who have prepaid for their script, you will have the option to refund their fee. Once you have made your selections and declined the request you will see a summary page like this: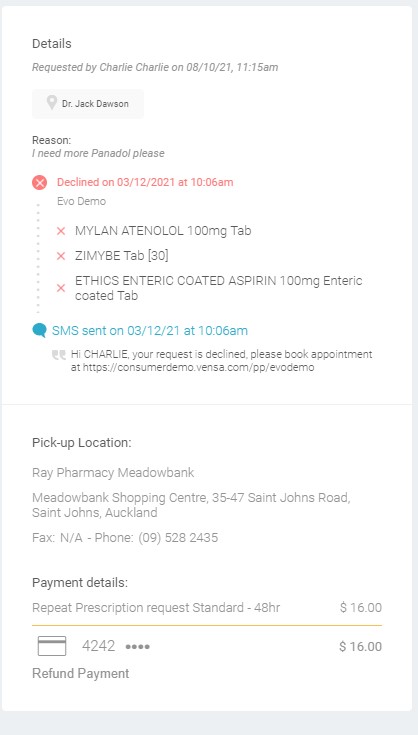 The patient is informed their request is declined, and they have been refunded. You can personalise the message should you wish. Easy!